PuraFlame Electric Fireplace: How Good Are They Really?
PuraFlame Electric Heating Review
Advertisement
Especially when it comes to cold winter days, a lot of people's ideal evening is curling up next to a nice, warm fireplace. Traditional fireplaces are messy and can result in a lot of work to maintain them. Chopping wood, cleaning up ash and all the other things that are involved with maintaining a traditional fireplace may be unappealing to a lot of people. Luckily, PuraFlame is changing the fireplace game with their range of electric fireplace inserts and products that allow you to get the same amazing comfort as a wood-burning fire, without the mess and hassle. 
Electric fireplaces are extremely popular, especially electric fireplace insert with heater and with getting more popular every day, you can expect that there's a lot of options on the market today. PuraFlame specializes in fireplace inserts or wall mounted fireplaces, this makes it specific for a customer base that owns their home and either has a mantle previously or a traditional fireplace that they're looking to upgrade to an electric fireplace insert existing fireplace.
In this post, we're going to have something for everyone with explaining not only more in-depth about electric fireplaces, the benefits of them but looking at PuraFlame in-depth in general and see if PuraFlame products are worth it and something that you should look into purchasing for your own home. 
What Are Electric Fireplaces?
We've talked about electric fireplaces many times before on our website. Especially when it comes to other electric fireplace companies out there, it's important to get a good understanding of what an electric fireplace is, how it works, and being able to tell the difference between the different types on the market today.
An electric fireplace is similar to an electric heater instead of just putting out heat, it mimics the look of a fireplace with either burning coal, natural gas, or wood. Electric fireplaces allow individuals that cannot traditionally have a fireplace to enjoy the beauty of a fire but also add an additional heat source to the home as well. 
This electric fireplace inserts with heater plug into the wall and have multiple settings. Regardless if it's an electric fireplace on the wall or an electric fireplace insert existing fireplace, most fireplaces allow you to have a "flame only" setting and then a flame setting with heat as well. 
There are tons of different types of electric fireplaces today and every electric fireplace is different when it comes to the amount of space it can heat, but typically electric fireplaces can heat up to around a 400 square feet room and consume around 1.4-1.6 kW of electricity. So this is something to be mindful of when it comes to your electricity bill. 
Of course, when it comes to electric fireplaces, unlike traditional woodburning fireplaces, you will need electricity to operate the fireplace. Once again, this is something to consider as your electric bill may increase if you're using it a lot whereas with a wood-burning fireplace you won't see any additional cost on your electricity bill, you may see it further down the track when it comes to buying wood and other products to properly maintain your fireplace. That being said, with the payoff you get from an electric fireplace, it's very much worth the price. 
Meet PuraFlame 
PuraFlame is a company that specializes in creating electric fireplaces. They offer a great variety of fireplaces including wall-mounted, electric fireplace insert with heater, freestanding, electric fireplace insert existing fireplace, and other types of electric fireplace inserts. They strive to not only provide amazing quality fireplaces but that is a craft of their own and are something you are proud to display in your home.
PuraFlame says that they can ensure that their fireplaces are tested, designed, and manufactured in the highest possible standard of safety and quality. With working with a company that uses fire, it's important that everything is up to standard and safe for your home. Regardless if it's a wall-mounted fireplace or a portable stove, PuraFlame states that they are committed to providing the ultimate fireplace experience with realistic flames and in a safe way.
For more information about Duraflame, you can visit their website by clicking here. 
Why Electric Fireplace With PuraFlame
PuraFlame has a lot of information on their website of why you would want to not only get an electric fireplace but an electric PuraFlame fireplace. We're going to summarize some of their information on their website below so you can get a better idea of the company and what they're all about.
Why Electric Fireplaces?
There are many reasons why someone would opt for an electric fireplace insert existing fireplace over a traditional wood-burning fireplace.
No firewood necessary
There is no firewood needed to heat an electric fireplace. This means you can continuously have an amazing, roaring fire without the need to retrieve wood from outside or stock up on supplies for colder months as well.
No polluting
Unlike other fireplace options on the market today, electric fireplaces and more specifically PuraFlame fireplaces don't emit any smoke or fumes into the air like Carbon Monoxide, Carbon Dioxide, Nitrogen Dioxide, Methane, and other toxic chemicals. This means that they are zero-emissions with no pollution inside or outside.
Non-Venting
If you don't have an existing vent in your home, it may seem like a fireplace is out the window for you. Luckily, PuraFlame fireplaces don't have a vent which means it doesn't compromise the building envelope, it doesn't introduce additional entry or exit points in your home, it won't allow for extra water to come in and possibly contribute to mold growth and a bunch of other items that are side effects to having a vent in your home.
Energy Efficient
You can select specific settings on your electric fireplace that allows you to be more energy-efficient. There's an option for heat output, flame effect, or both so you can use just as much energy as you require.
Zone Heating
This goes along with being energy efficient, but with zone heating, you are only having to heat the room that the fireplace is in so that not only saves you energy but of course, saves your money as well.
Ease of Use
We mentioned before that traditional fireplaces require a bit of maintenance and work to keep the fire going with fuel, logs, and other tools and accessories. An electric fireplace allows you to have the same ambiance of a wood-burning fire, but without any of the efforts.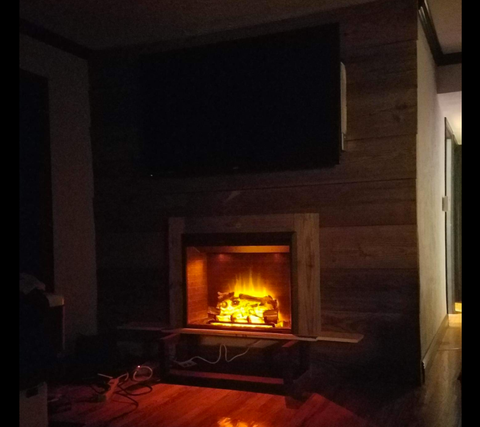 Why PuraFlame Fireplaces 
So if you decided on getting an electric fireplace, with all the options there are on the market today, you may be wondering, why PuraFlame fireplaces? What makes them so great?
PuraFlame has countless reasons why they think that their company is the best when it comes to electric fireplaces, which is what we'll list for you down below.
In fact, PuraFlame claims: 
Realistic Flame
Realistic Fuel Bed
LED Technology
Temperature Technology
Timer Technology
Quiet
Realistic Flame
When it comes to electric fireplaces, most people are still wanting that real wood-burning fire look. PuraFlame electric fireplaces use RICHFLAME and GRASSFLAME technology which makes the shape and color of the flame more realistic and vivid compared to others.
Realistic Fuel Bed
PuraFlame electric fireplace uses a 3Dcascade resin log, a lighted decorative glass fuel effect, and a coal bed to provide a realistic experience.
LED Technology
LED technology is incorporated in every PuraFlame fireplace. This technology is used to power the flame effect by using only 5 watts of electric power and has an overall life span of more than 75,000 hours. This is a lot more impressive than regular bulbs that use 120 watts and have to be replaced every 2,000 hours or less. This is a difference of 8.5 years vs. 83 days which makes a big difference when it comes to cost.
Temperature Technology
With being electric, you can set the exact temperature you want for your room – something you can't do with a traditional wood-burning fireplace.
Timer Technology
No longer have to worry about if the fire is out before you go to bed. You can set timers that are good for 30 minutes up until 9 hours so you can go about your day worry-free and still have a nice cozy home.
Quiet
With the high-quality fan and motor, PuraFlame fireplaces are as quiet as can be.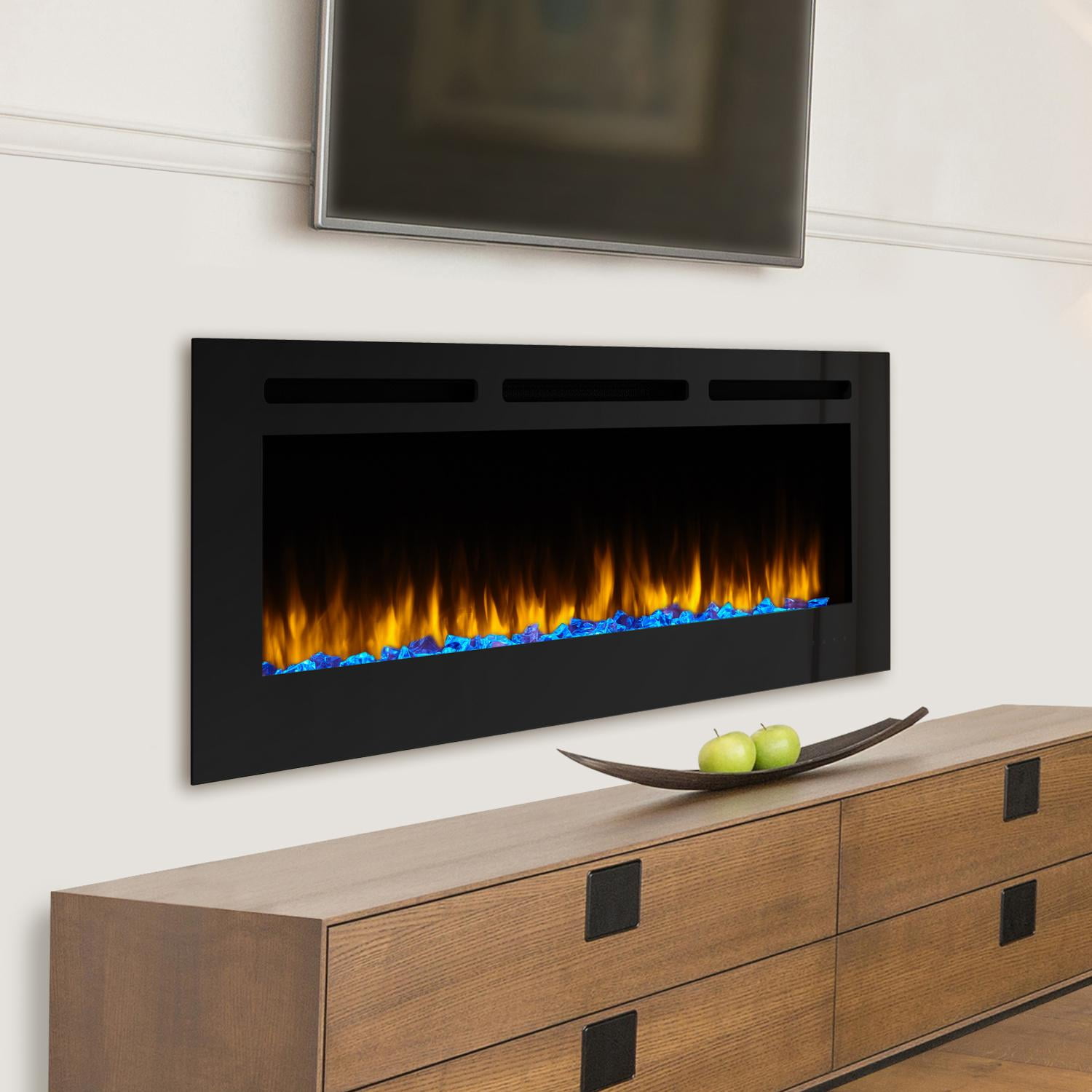 PuraFlame Most Popular Electric Fireplace Products 
There are a variety of different PuraFlame electric fireplaces on the market today that you may be overwhelmed when it comes to finding the right PuraFlame electric fireplace for you and your needs.
We have a wide range of electric fireplaces on our website and countless reviews so you can find the right electric fireplace for you. Whether you're looking for the 7 Best Realistic Electric Fireplaces or realistic fireplace stoves, PuraFlame has a lot of options available. 
PuraFlame Western Electric Fireplace Insert With Fire Crackling Sound
This PuraFlame electric fireplace is one of the most realistic looking electric fireplaces inserts that PuraFlame offers. It offers 3 flame settings with different levels of intensity and brightness so you can choose to heat your home or just give off a nice fireplace glow. Everything can be controlled with the included remote and the best part, this fireplace offers 100% energy-saving LED technology so you don't have to worry about your electric bill being driven up a crazy amount. 
It features a life-like resin log that is a decent amount sitting up which looks fantastic over the bed of embers and makes it look like a real fire. It's perfect for heating up to a 400 square foot room but it should not be used as the main heat source just for a little supplemental heating and adding some extra ambiance to space.
PuraFlame Alice 60 Inch Recessed Electric Fireplace
If you're looking for a wall mounted option from PuraFlame, they have a lot to choose from. This 60 inch Recessed Electric Fireplace is one of their more popular option with having well over 1,000 reviews on Amazon alone. It's available in a number of sizes including 40 inches, 50 inches, 50 inches in white, 60 inches, and then an incredible 68 inches as well. It features all of the same high-quality functions and materials that are used in all PuraFlame fireplaces and offers a realistic flame effect with the ultra high intensity LED lights that provide not only a very bright flame but a realistic one as well. 
There are two options with this fireplace when it comes to the ember bed, you can stick to the more classic log set or you can opt for te crystal stones that give a more modern look. There are also four different flame settings which also cater to your mood-setting needs and gives you a lot of flexibility when it comes to setting the mood.
Once again, this fireplace shouldn't be used as the main heat source but just as a little bit of extra heat and to be a major statement piece to your living space. Regardless of the room you put this fireplace in, it immediately adds a bit of relaxation and comfort into the home and is perfect for not only your living room but also the entertainment center or bedroom as well.
Other PuraFlame Products 
PuraFlame offers a lot of other options as well including space heaters and fireplace accessories. Although a lot of times, their space heaters are sold out, their remote handsets and other accessories are easier to get your hands on and worth spending time mentioning. 
PuraFlame Remote Handset
PuraFlame Remote Handset Electric Fireplace Heater
PuraFlame offers a variety of remote handsets that are for specific models that they have. This particular one is one of the most popular remote handsets that is made from the Galenda, Celia, Provo, and Rossano Electric Fireplace heaters. With having an electric fireplace, you have a lot of conveniences that you wouldn't have with a traditional wood-burning fireplace, conveniences like turning the fire on and off as you please. This remote is great for navigating through your different flame effects, turning the heaters on or off, and displaying the temperature that you have set. 
This remote is also how you can operate the timer between 30 minutes and 9 hours and will truly elevate your fireplace experience when it comes to your PuraFlame fireplace. Some fireplaces do come with their own remote but so do not so it's important to check before making the purchase. It's also great though if you misplace your old remote, you know that you can reorder one easily on Amazon without any issues.
What Reviews Are Saying 
With hundreds of thousands of reviews on all of their products, there are a lot of things being said about PuraFlame and their products. 
"Love the crackling sound!" 

"Five Stars" 

"Very pleased and plesantly surprised!" 

"Absolutely LOVE it!!!" 

"AThe perfect fireplace fire" 
Overall Thoughts 
After our extensive research, looking at the other products and the company as a whole, PuraFlame offers a great selection of electric fireplaces. They have a combination of wall mounted and electric fireplace inserts which can appeal to a vast crowd that is looking for a traditional fireplace or something a little more modern. That being said, they are only suitable for people that have a place for a fireplace as they are not freestanding electric fireplaces. They are electric fireplaces that you need to have a mantle previously or somewhere you can put in an insert. 
With all that considered, if you do find yourself in that situation they have a lot of options to choose from and are pretty decently priced as well. The reviews are really positive and they are definitely getting a lot of great feedback not only in terms of the design of their fireplaces and how realistic they look but also in terms of functionality and durability as well.
There are a few things that should be noted, especially when it comes to electric fireplaces such as the fact that this cannot be used as your main heat source. Although it does put off some heat, don't expect your room to be hot in the middle of Winter with this fireplace. PuraFlame made that really clear and that's not just exclusive to their electric fireplaces, but really all electric fireplaces in general.
Overall, we're pretty impressed with the overall store and if you're looking for an electric fireplace insert, they are definitely worth the visit.
Advertisement