Sunnydaze Decor: A Full Review of Their Store
Sunnydaze Decor Comperhensive Review
Advertisement
When it comes to your backyard, there are endless possibilities of what can be done. Do you want to make it an extension of your existing home with a full kitchen, BBQ, outdoor fireplace, and seating, or are you looking to make it a garden oasis with stones for fire pit and lush plants around? The choice is really up to you and what you're looking to do with your backyard space.
Sunnydaze Decor specializes in decor for the home but really spending time focusing on outdoor decor. With focusing on outdoor decor specifically, Sunnydaze Decor has become not only one of the most popular stores on the Amazon storefront but also in general with their online website.
Regardless if you browse their products on Amazon or on their website, you will be greeted with a large variety of outdoor decor and everything from fire pits, to log racks, stones for fire pit, to garden gnomes. As this is a website all about fire and fireplaces, we will be focusing on the fire pits mostly, but also talk about the additional products they have as well showing you if this one-stop-shop for outdoor decor is your next go-to store.
Below, we'll go through a little bit about Sunnydaze Decor so you can get a better understanding of the company as a whole, their features, how they operate, the quality of their products, and much much more.
Meet Sunnydaze Decor  
Sunnydaze Decor started with a simple vision of bringing high-quality indoor and outdoor products to customers to elevate their backyard and patio experience and add some additional comfort and style to their homes. The company has been going for over 8 years online and in 2014, trademarked the name Sunnydaze Decor.
You may be wondering why the name Sunnydaze Decor? The company decided to call the company Sunnydaze because it captured the message they wanted for their clients with their outdoor furniture and decor – happy times and sunny warm days. The ideal weather for enjoying your backyard with your new Sunnydaze Decor items.
Today, Sunnydaze Decor is a team of dedicated professional that travel the world to gain more inspiration and truly find the freshest, most innovative, quality products to offer to their customers.
For more information about Sunnydaze Decor, you can visit their website by clicking here. 
Why Sunnydaze Decor
Sunnydaze Decor not only states that their large selection of outdoor furniture, fire pits, and decor is something that you'll immediately fall in love with, but they're very proud of the way they operate their business and definitely strive to make your experience the best it can be with them. Below we'll go over some of the major important points that you should know before ordering from Sunnydaze Decor.
Customer Service
When it comes to an online shop especially, customer service is crucial and also sometimes hard to come by. We know that we've had our fair share of bad customer service and when it comes to ordering products online, it's stressful when you can't see the items in person before the purchase.
Good customer service makes all the difference and Sunnydaze Decor knows this. They pride themselves on the 'old-fashioned Midwest' style of customer service that values being innovative, competitive, and passionate about the products they have in their store today.
Their customer service team is trained to deliver simple solutions and quick answers to your issues. You can contact the team from the information we have below and they state that they promise to return your call or email you the following business day if you call them after traditional working hours. Needless to say, they take customer service really seriously which is great when ordering from an online company.
Fast Shipping
Chances are if you're ordering something online, you want that item and you want it fast! Luckily for you, Sunnydaze Decor prides itself on getting orders shipped the very same day you order them! This is definitely rare when it comes to a lot of online companies today so it's exciting that if you're located within the US, you'll get your item extremely fast.
Want to track your order and anticipate it's arrival? Not a problem as Sunnydaze Decor always sends you your tracking details when your item ships.
Contact The Company
If you're looking to get in contact with the company, you can contact them by live chat, email, or call them on their customer service line: 1-833-982-1977, Monday through Friday 8 AM – 5 PM.
Sunnydaze Decor is located out in Eau Claire, Wisconsin which is where their customer service team is not only based but where all their products are based as well.
Where to Buy
Sunnydaze Decor has multiple places you can purchase from. You can either buy directly on their website or on Amazon. A lot of people do choose to purchase their Sunnydaze Decor pieces from Amazon due to the familiarity with how Amazon operates, the incredibly fast shipping, and the warranties you get with Amazon.
The Sunnydaze Decor customer service is great and you can still talk to them if you order through Amazon, but with how often people use Amazon if you're familiar with how Amazon works, we definitely find shopping through there a lot more user-friendly.
FAQS and Resources
When it comes to the FAQs page, a lot of companies tend to have the most common questions and answers on there so that you can avoid having to contact the company for the smallest issue. Unfortunately, we found that Sunnydaze Decor doesn't really have the best FAQs page. They only have one thing listed in their resource section:
Why is My Solar Foundation Not Working? Troubleshoot Guide 
This could mean that the company doesn't really have many common problems through customer feedback, but it's more likely that their website is a little outdated.
Rewards Program
Sunnydaze Decor offers a reward program that is completely free to enroll. In fact, you don't even need to make your first purchase to sign up for the rewards program. With the rewards program, you earn exclusive rewards every time you shop with them.
To learn more about the rewards program, click here.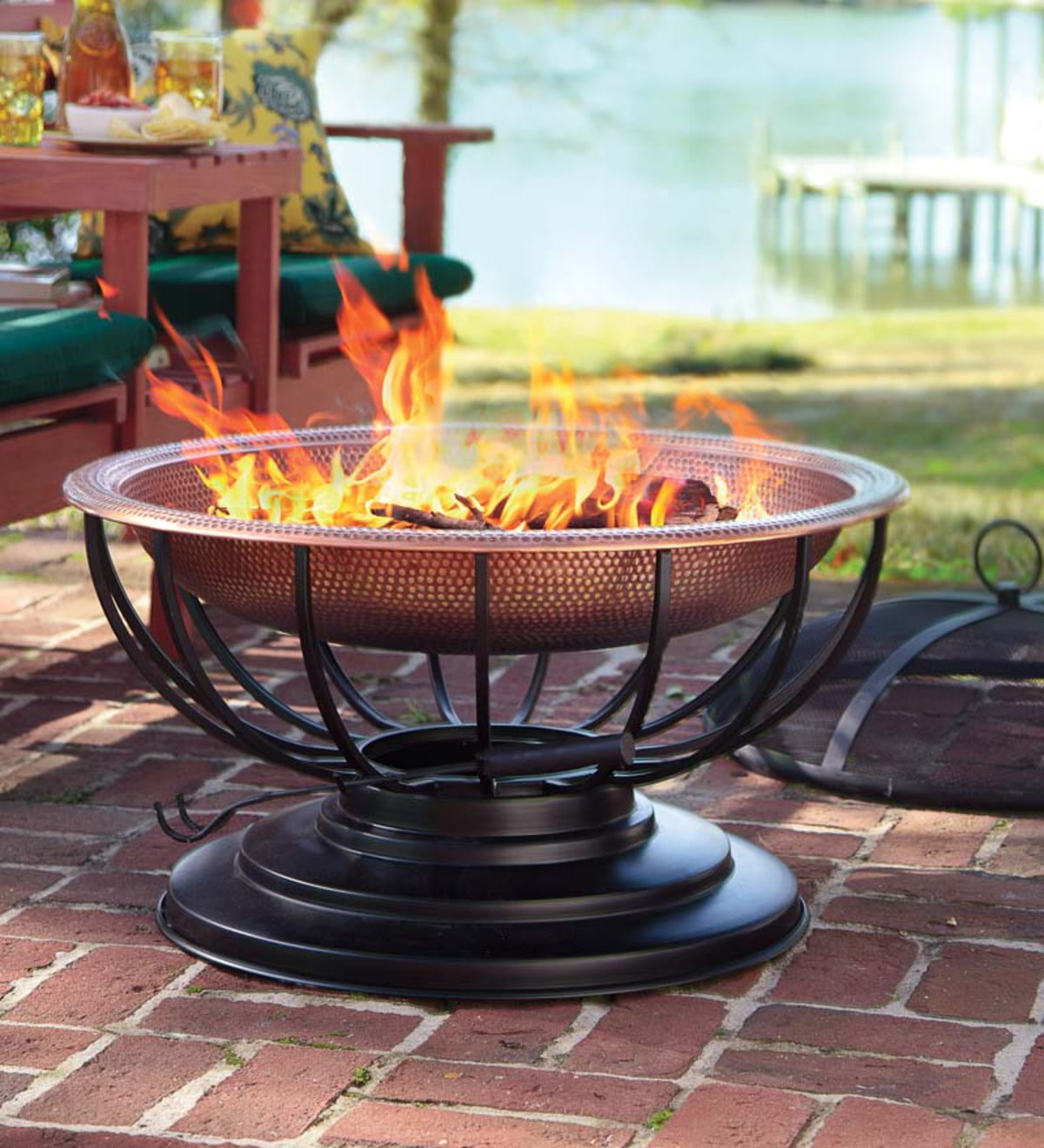 Sunnydaze Decor's Most Popular Fire Products
Sunnydaze Decor offers a variety of outdoor furniture and decor which we will mention down below. That being said, as this website is focused on fireplaces and all things fire, we thought that it was best to focus more on Sunnydaze Decor's fire pits, accessories, fire pit portable, stones for fire pit, and firewood log racks.
Sunnydaze Decor Fire Pits & Accessories: 
Sunnydaze Decor Outdoor Fire Pits
Sunnydaze Decor Fire Pit Rings
Sunnydaze Decor Firewood Log Racks
Sunnydaze Decor Fire Pit Accessories
Sunnydaze Decor Outdoor Fire Pits
Sunnydaze Decor Crossweave Outdoor Fire Pit
Sunnydaze Decor has a lot of fire pit options, but this model with the cross-weave style is definitely one of their more popular options, especially on Amazon. This one has nearly 1,500 5-star reviews, making it definitely a well-loved option when it comes to outdoor fire pits from Sunnydaze Decor. 
It's a large size which is great for fitting many people around the bonfire on the yard, garden, or even the patio. It's 36″ in diameter and is 16″ tall without the spark screen. It weighs a total of 29 pounds so it's not too heavy to pick up and remove around your yard and therefore is a fire pit portable option.
It comes with a full set up with a fire pit kit including the fire bowl with the metal spark screen, the added safety screen which keeps flying sparks away, the waterproof top which is high-quality and the weather-resistant round cover, built-in wood-burning grate for better airflow, and lastly, the poker tool to easily control the flame.
Best of yet, the Sunnydaze Decor outdoor fire pit comes with a 1-year manufacturer's warranty which truly makes this purchase a worry-free purchase! 
Sunnydaze Rustic Propane Gas Fire Pit Table
A little bit of a different style, this Sunnydaze Decor Rustic Propane Gas Fire Pit Table provides the same high-quality fire pit features as their other fire pits but in a different way. This fire pit looks absolutely stunning on your lawn or patio. It's a rectangular shape and is 13″ tall, about 27″ wide, 48″ deep, and the burner is 23″ long. It's extremely sturdy and well built, perfect for the outside. The fire pit table is actually made from fiberglass which is then reinforced with concrete which adds another layer of durability and fire resistance to the piece.
The materials that are used beautifully replicate the look and texture of wood and also include a storage cover as well which allows you to keep your fire pit looking amazing for years to come. Like other Sunnydaze Decor pieces, this fire pit is backed by the 1-year manufacturer's warranty as well so you can have worry-free purchasing with this amazing fire pit as well and comes with a fire pit kit as well.
The outdoor fire pit bowls are some of the more popular options available at Sunnydaze Decor as well. Once again, this outdoor fire pit bowl is a large size which is perfect for fitting a large group of people around your outdoor fire pit. It's a little smaller than the previous model we mentioned above with being 30″ in diameter, 15″ tall without the screen, and weighing about 23 pounds, making it even easier to move around your backyard and a fire pit portable option.
It's heavy-duty and made from a deep metal which is rust-resistant as well. This is great so you can keep it outside all year long without any worry. The materials used to create this Sunnydaze Decor fire pit include thick steel and black high-temperature paint finish that is also heat and rust-resistant. It features decorative brass-colored accents throughout that compliment a wide range of different outdoor styles.
Once again, it features the same accessories as all Sunnydaze Decor fire pits in the fire pit kit and it's extremely easy to set up as well with simply connecting the base to the fire bowl and you're ready to go.
Sunnydaze Decor Fire Pit Accessories
Sunnydaze Firewood Rack Bracket Kit 
There's a number of things that make this Sunnydaze Firewood Rack Bracket Kit special, one of them being that it's adjustable to any length. You can order your firewood rack Bracket Kit in packs of 1, 2, or 3 brackets which allows you to store more than enough firewood for your outdoor fire pit or even indoor fireplace.
It's made from a very sturdy, heavy-duty design that includes black powder-coated 1/8 inch thick steel for added longevity and is incredibly easy to assemble as well with just simply attaching the screens to the metal bracket. Once again, as with all Sunnydaze products, you have a 1-year warranty included in your purchase as well.
Sunnydaze Firewood Log Rack Cover
Looking to keep your wood nice and dry even during the wettest of days? This Sunnydaze Firewood cover is a fantastic option. It features a durable design with an attractive fabric top that is water repellent and also resistant to the PVC undercoating included in the design as well.
It's also a practical option when it comes to the design of the cover. It opens and closes really quickly with the toggle strap design and all you have to do is a hoop and fasten the loops. It's functional with keeping your firewood dry but also practical with being easy to open and close when you're ready to use it.
Other Sunnydaze Decor Products 
Sunnydaze Decor offers a lot of other types of outdoor decor and products other than just fire pits and fire pits accessories. If you're looking for a one-stop-shop when it comes to outdoor decor, we definitely recommend you check out what else Sunnydaze Decor has to offer. 
Other Products 
Sunnydaze Decor Polyester Rope Hammock For 2 People
If you're looking to create the ultimate outdoor oasis, this high-quality polyester rope hammock is just what you need. This hammock is large enough to comfortably seat two adults and has a weight capacity of 600 pounds. It's versatile as you can tie it between two trees, a pole, or even with a 15-foot stand. Unfortunately, you do have to purchase the hammock stand separately, but some people prefer to use other items like trees or poles to make something a little bit more stable.
Sunnydaze Decor
Classic Tulip Outdoor Water Fountain
Sunnydaze Decor has a large selection of outdoor fountains so if this particular one is a little too extravagant than what you were after, don't knock Sunnydaze Decor off yet. They have a really large selection of fountains.
This one, in particular, is one of their more popular options with being large and elegant. It will definitely make a statement on your front porch, deck, lawn, or anywhere outside in your backyard. It's made with durable materials and is truly meant to last a long time.
Sunnydaze Decor Manor Fiber Clay Square Planter Pots
Along with the fire pits, outdoor furniture, and water features, Sunnydaze Decor has a variety of plant pots of all sizes and shapes. This Manor Fiber Clay Square Planter Flower Pot is one of their best sellers and is available in a 3-piece set, 9″ set of 2 or 13″ set of 2. It would be the perfect addition to your backyard oasis and look great near your outdoor fire pit as well.
Sunnydaze Decor has such a wide selection of items that you can get for your outdoor area that we definitely encourage you to take a longer look right on their website. We just wanted to give you a general idea of some of the products they offer along with their most popular fire pits as well.
What Reviews Are Saying 
With hundreds of thousands of reviews on all of their products, there are a lot of things being said about Sunnydaze Decor and their products. 
"Great Quality, Heavy Duty!" 

"Beautiful" 

"The Price is Really Good!" 

"I LOVE IT!!" 

"Great Firepit!" 
Overall Thoughts 
After our extensive research, looking at the other products and the company as a whole, Sunnydaze Decor offers a great selection of not only outdoor fire pits and fire pit accessories but also a wide range of outdoor accessories and furniture as well. They have a great selection of outdoor fire pits of all sizes, shapes, and styles, that they truly have something for everyone when it comes to finding the perfect outdoor fire pit for you and your backyard. Along with their fire pit selection, they also have a wide range of accessories for your fit pit including covers, log storage, and covers for the log storage as well. This makes them truly a one-stop-shop when it comes to fire pits, accessories, and overall, backyard and garden needs. 
What really impresses us with Sunnydaze Decor other than their amazing selection of products, is also the fact that they strive to operate their company in a really high-quality and organized way. They have great customer service regardless if you order their products on Amazon or on their website and they have incredibly fast shipping as well.
Overall, we're pretty impressed with the overall store and if you're looking for an outdoor fireplace or ways to update your backyard, they are definitely worth the visit.
Advertisement